Ver.0.0.22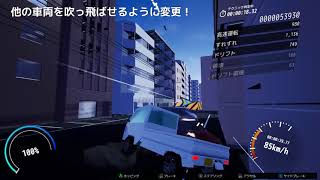 Add
Vertical sync setting
Frame rate setting (60fps is recommended)
Steering sensitivity setting
Burnout operation (press brake and gas pedal simultaneously)
Roll if speed against side is too fast
change
Changed vertical sync to on
Changed to be able to blow up other vehicles
Adjustments
To make it easier to control in the air
The car navigation system should not use the same words in succession.
Turn the vehicle to face the direction of travel at the start of the stage.
Fix
Sometimes the car rolls slowly when landing.
When diving into a car in a multi-level parking lot, it gets stuck
Rubble collision doesn't match the appearance
The backlight is not on when backing up.
The bands on the guide signs are not aligned correctly, so it looks like they are stuck to the bar
---
Click here to download the game!